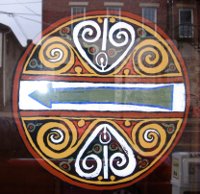 Back in the spring of 1985, a group of eight recently unemployed restaurant workers decided to form a worker-owned cooperative.  The original founders had never run a business before, but collectively had over 100 years of restaurant experience and the determination to create their own livelihoods.  Fortunately, the Appalachian Center for Economic Networks (then Worker Owned Network,) had recently formed in the spring of 1985 to promote community-based economic development in the region through the formation of worker-owned businesses. Through their staff's tutelage, the coop's founders developed a business plan, secured financing and created the foundation of Casa Nueva's cooperative structure.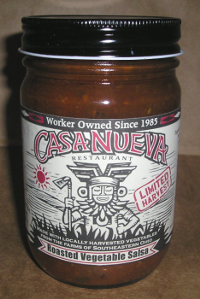 With the passage of time, Casa Nueva has expanded to include the Casa Cantina which opened in October of 1993 and our Casa Nueva Salsa and Limited Harvest product lines which we began manufacturing in 1987.  In 2003, the owners embarked on the largest expansion project in the corporations history: doubling the size of the Cantina seating, increasing the premises by an additional storefront and adding a second kitchen.  The Bodega kitchen has allowed us to expand our menu options and expand our appetizer selections.  Although our salsa production is currently on hiatus, we have been enjoying our recent return to the Athens Farmer's Market as a vendor of fresh salsas, dressings and baked goods.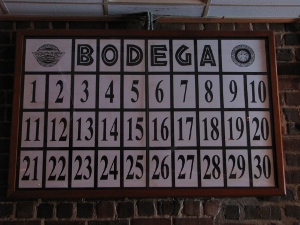 Throughout our history, we have consistently maintained a commitment to ownership opportunities for all our employees.  Every employee of the corporation has the opportunity to also become a shareholder.  Before employees are accepted into the cooperative, they are required to attend a number of workshops focused on cooperative and financial education to become fully aware of both their rights and responsibilities as owners.  To a large extent, membership's initiative to provide input on policies and procedures has paved the way for our overall development as an innovative, well-managed business.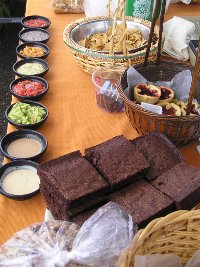 Communicating our mission and core values to our fellow owners, customers, suppliers and community in tangible ways is extremely important to us; as well as being good collaborators, learners and listeners within the economic system.  Although Casa Nueva or "new house" isn't so new any more, our owners stay committed to creating "what's new" both as a business and cooperative.   At Casa, we feel that our efforts are part of a larger movement in which owners can provide direction and vision to create a workplace in which all individuals are treated with equality, respect and compassion.
We are very proud to have been a provider of nouveau-Mexican southeastern-Ohio style food for our community for the last 25+ years!  We have been fortunate to have such a supportive network of customers, producers and the like.  Many thanks to everyone who has made Casa Nueva the successful business it is today.